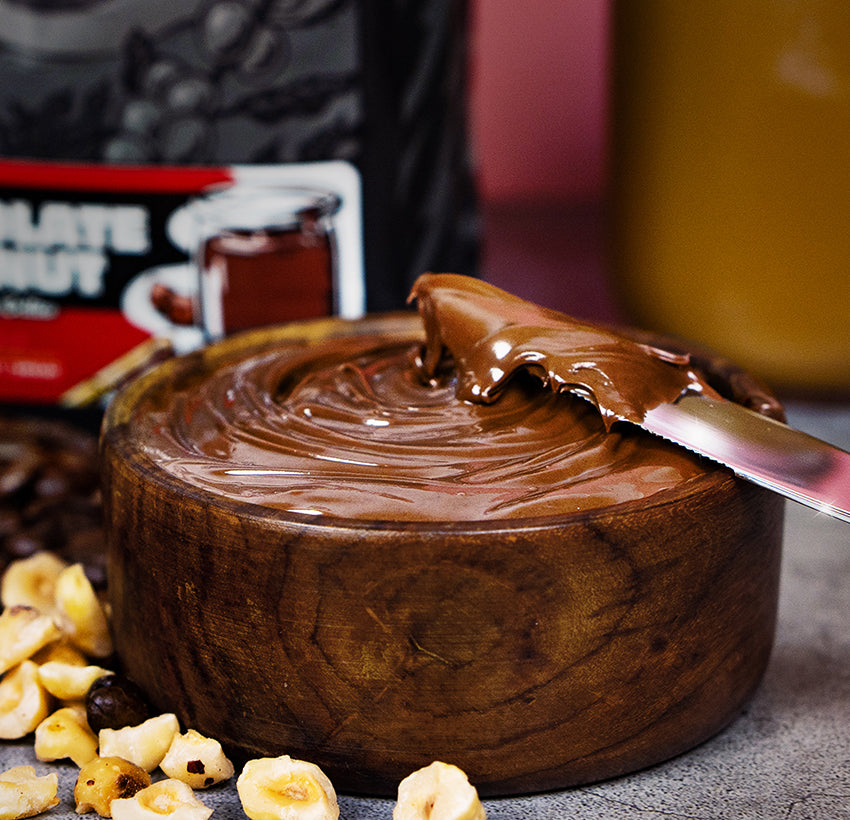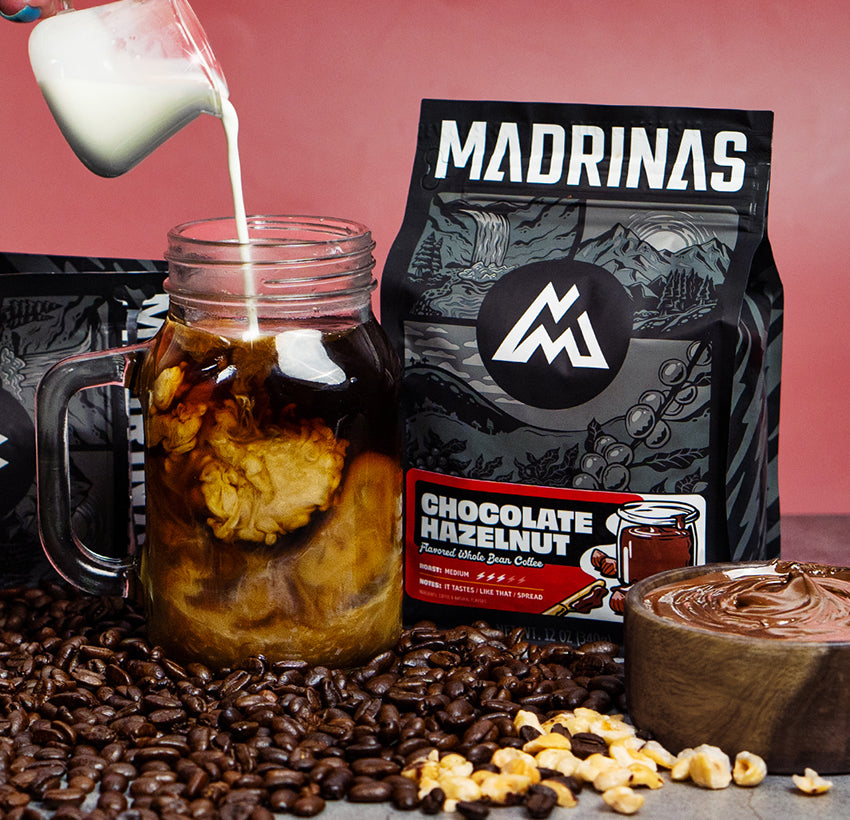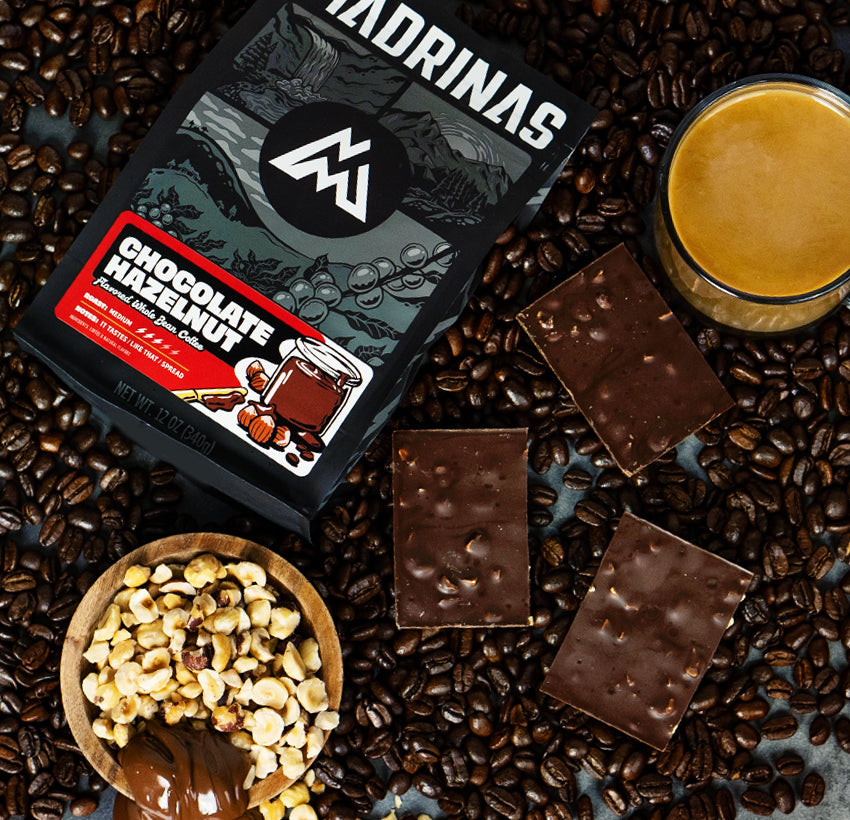 Roast
Flavor Notes
It Tastes / Like That / Spread
SOURCING
We work directly with suppliers to source only high quality, Specialty Class Arabica coffee beans and promote sustainable business practices
Brewing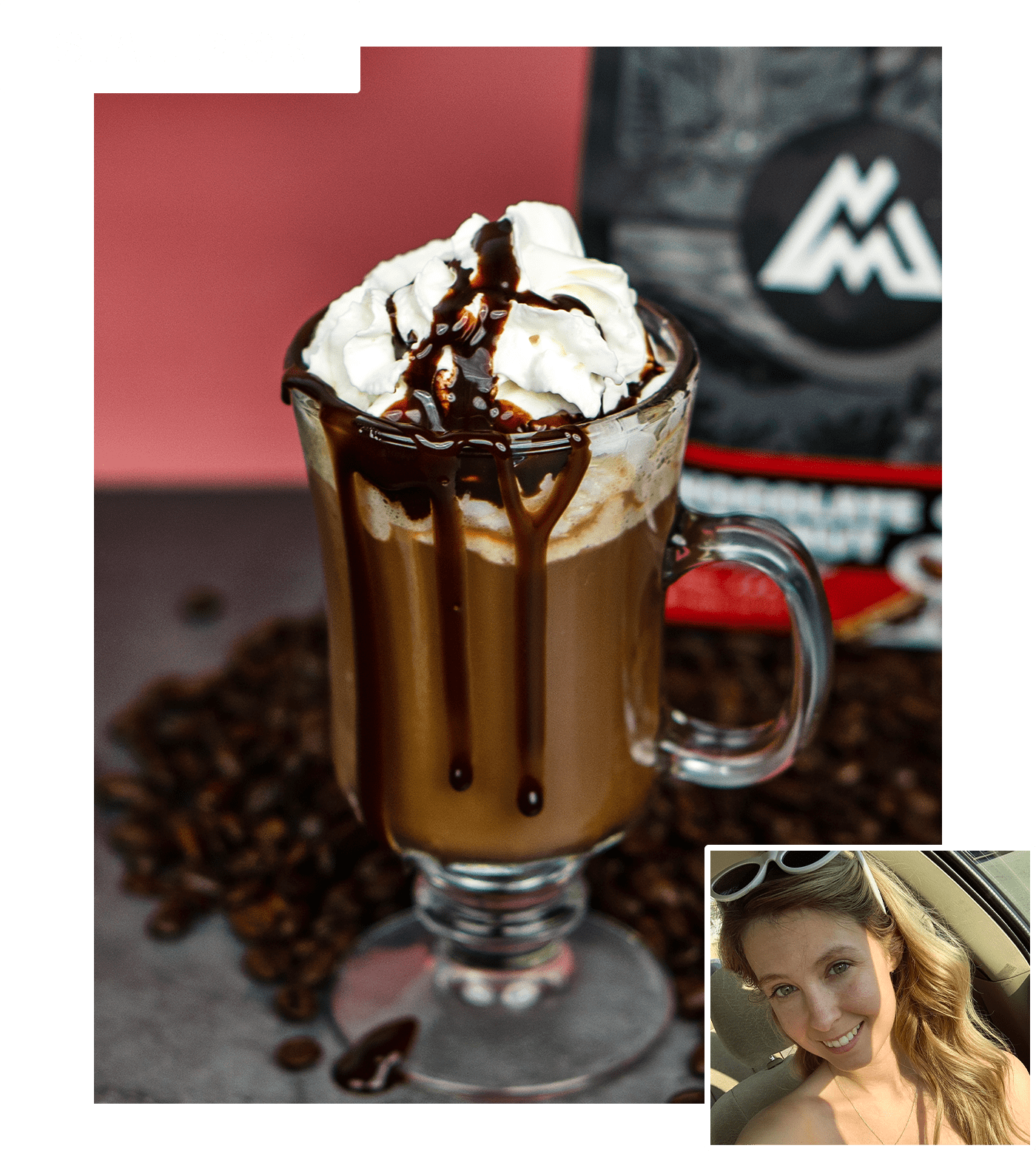 "NUTS FOR CHOCOLATE" LATTE
INGREDIENTS
- 6 ounces of Chocolate Hazelnut Flavored Coffee
- 2 tablespoons chocolate hazelnut spread
- 2 tablespoons hazelnut creamer
- Whipped cream (desired amount for topping)
DIRECTIONS
1. Brew Madrinas Chocolate Hazelnut Flavored Coffee using your desired brewing method
2. Add hot brewed coffee to mug
3. Stir in chocolate hazelnut spread
4. Pour hazelnut cream into mug and stir
5. Add whipped cream and drizzle chocolate hazelnut spread as garnish
perfect wake up brew
My partner and I have a love for hazelnut coffee and this is the best bean we have come across. A beautiful tasting bean and definitely a great way to start the day or get through the colder days.
The Perfect Hazelnut Coffee
I grew up drinking hazelnut coffee with my dad, so this flavored whole bean hits different. I've tried dozens of other flavored bean coffees, and this beats all of them! There's nothing like the mix of chocolate, hazelnut, and coffee. You all really perfected the balance of flavors on this coffee, I'll be back for more!
I am HOOKED
I did NOT expect it to be so SMOOTH and CLEAN tasting! The taste is present but not overpowering, and can be brought out more by adding your favorite creamer!
Best Smelling Flavored Whole Bean Ever
This Chocolate Hazelnut Flavored Whole Bean is incredible! I've tried a lot of flavored coffees and most of them leave my mouth tasting like chemicals, or like 1/10 gas station coffee. NOT THIS STUFF. The entire house is filled with the aroma of Chocolate Hazelnut when I'm brewing it, and after I make it the way I like it (with a little cream and sugar) it tastes sooooo good. The perfect balance of chocolate, hazelnut, and coffee flavor. None of them is too overpowering. I will 100% be buying this again and again.
Not my favorite compared to others, but Nutella lovers should give this a try!
Of the four flavored coffees that released together (Salted Caramel, Vanilla Cupcake, Cinnamon Roll, Chocolate Hazelnut) this was my least favorite. Not that is it "bad" - it just isn't the flavor profile that my taste buds fancy. However, if you love to eat Nutella by the spoonful, this is the flavored coffee for you!