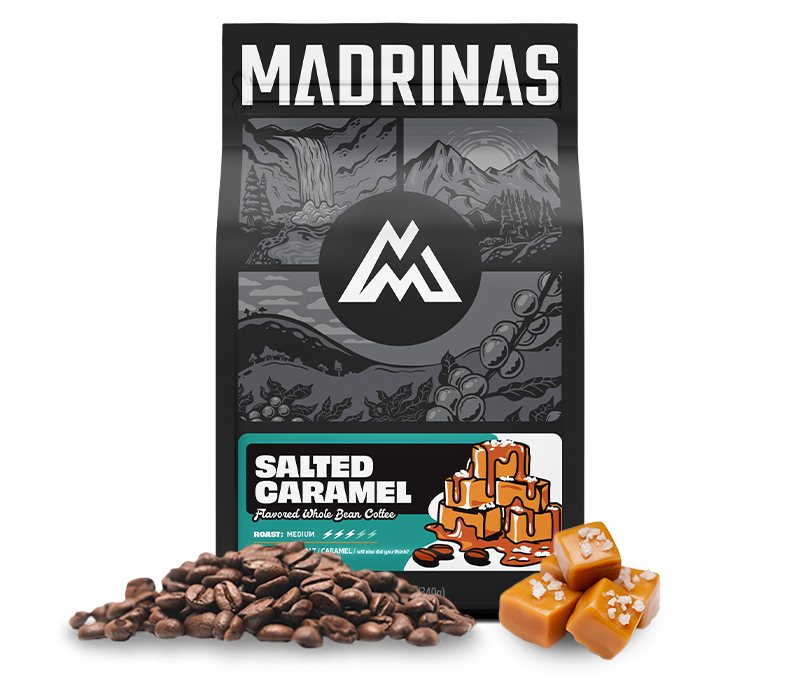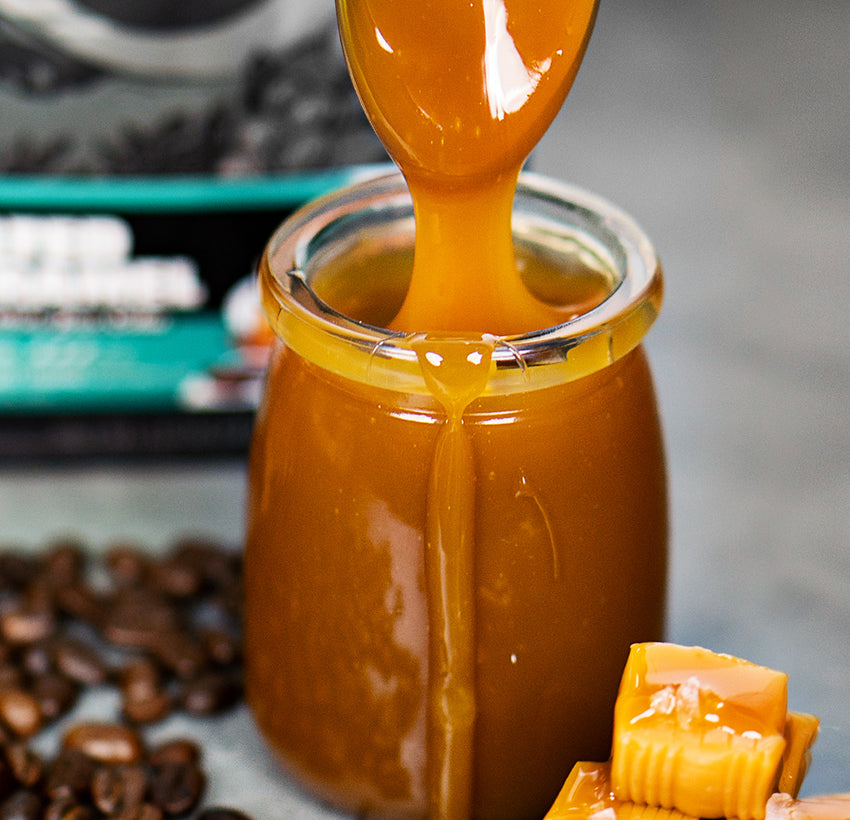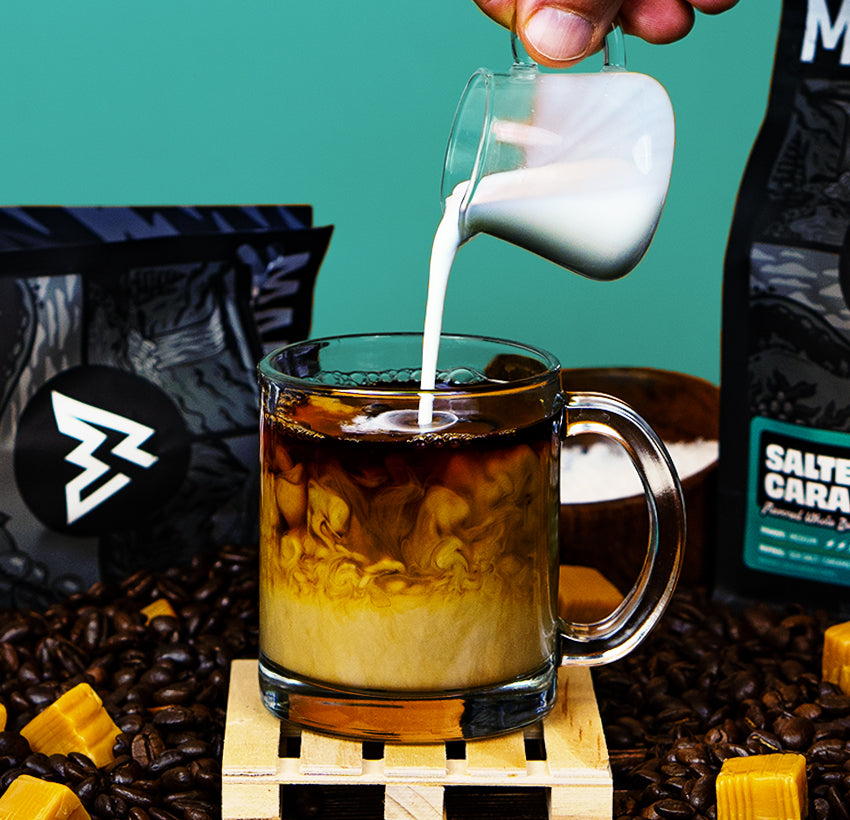 Roast
Flavor Notes
Sea Salt / Caramel / wtf else did you think?
SOURCING
We work directly with suppliers to source only high quality, Specialty Class Arabica coffee beans and promote sustainable business practices
Brewing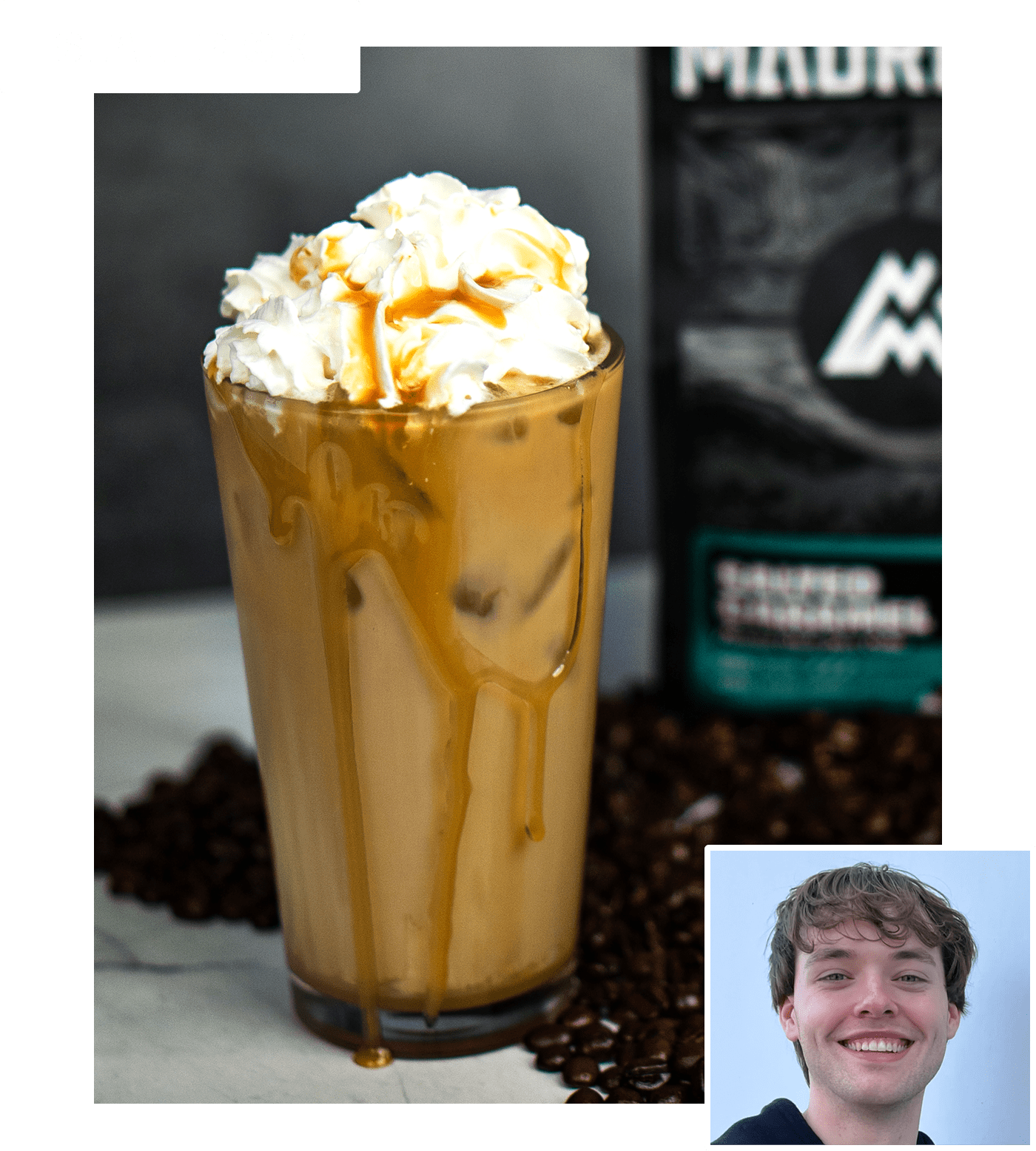 CHILLED SALTED CARAMEL TREAT
INGREDIENTS
- (2 servings) 1 cup of strong brewed Madrinas Salted Caramel Flavored Coffee
- 2 tablespoons of caramel syrup
- Ice cubes
- 1/8 teaspoon of sea salt
- 1 cup milk (or dairy-free alternative)
- Whipped Cream (optional)
DIRECTIONS
1. Pour brewed Madrinas Salted Caramel Flavored Coffee into a temperature safe drinking container
2. Add caramel syrup to brewed coffee. Stir and let it sit to cool
3. Fill 2 glasses with 1 cup of ice each
4. Pour equal amounts of the cooled coffee into each glass, add a pinch of sea salt to each, and mix well
5. Add to the top of each glass a 1/2 cup of cold milk
6. If desired, add whipped cream, and drizzle with caramel sauce
7. Enjoy!
My New Favorite!
I have to admit, all of the Madrinas coffees that I have had taste great! The roasters really know what they are doing. But for me, the Salted Caramel just edges the others out. I don't think you could go wrong with any of their coffees, but this one is special. But don't take my word for it, put one in your cart. You will not regret it!
Awesome Taste
I have never done fresh coffee beans before. I love caramel, so figured I'd give this a try. Absolutely loved the flavor. This blend is exactally what I've been looking for. I will definitely buy this again, & look forward to trying some other flavors. highyl recommend.
smells wonderful; tastes great
My boyfriend HATES coffee and the smell when I grind/brew it. But this blend smells very vanillay, it makes the whole kitchen smell wonderful each morning. The taste is pretty strong it holds up to adding cream and sugar well; unlike other brands/flavors I've tried. I even cut my blend like 2/3 this 1/3 a medium roast like cold brew or morning blend. highly recommend giving this a try if you like flavored coffee but don't want to use syrup or flavored creamers.
Side note for smell straight out of bag at open might be over powering or too sweet but once it oxidizes a little that calms down. Unlike other coffees this doesn't taste super fake and chemically. (that's why I normally avoid pre flavored coffees).
TRY THIS RIGHT NOW!
STOP WHAT YOU'RE DOING RIGHT NOW AND TRY THIS COFFEE! I cannot recommend it enough. This isn't like some of those other flavored coffee companies that leave you feeling like you just drank a cup of battery acid. This stuff is LEGIT. Hands down the best-flavored coffee I've ever found. It smells so damn good while brewing, and tastes even better! You get the flavor of the salted caramel and it balances out the coffee for a really enjoyable smooth sippin' experience. Listen, I don't write reviews but I had to for this because everyone needs to know just how good it is!
I've never tried flavored whole bean before but after trying this it opens up a whole new world of coffee possibilities